24/7 EMERGENCY SERVICE RESIDENTIAL & COMMERCIAL SERVICES
Hail can cause major damage to your property. In 2022, there were over 4,400 severe hail damage reports which caused billions of dollars of property damage. Hail can damage various things outside such as your vehicle, roof, and even the windows of your home. Most of the time, hail damage is very apparent, such as when it breaks a window or dents a car. However, sometimes hail damage cannot be easily seen. With hail damage on a roof, you may need an inspection to figure out how much damage it has caused so you can take proper measures to fix it.
How does hail damage affect your roof?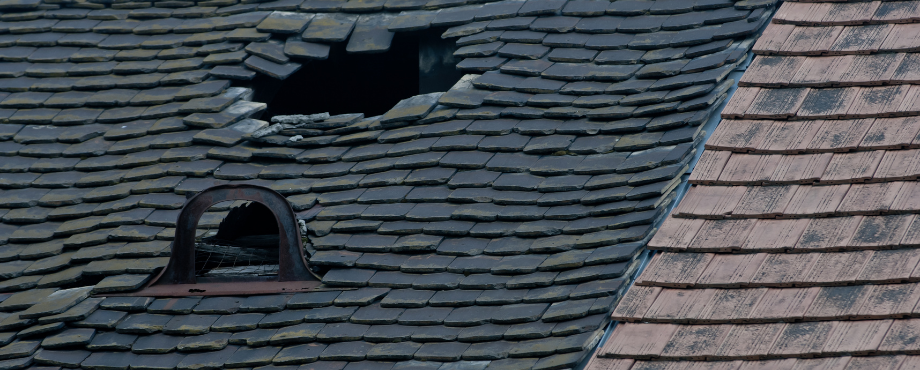 The extent of hail damage can vary. It will depend on the hail size, wind speed, and directions, the material the roof is made of, and even the slope of it due to roof leaks and other issues. Whether you've experienced cosmetic damage or broken edges, bruises, or punctures, this can cause additional costly issues with your roof later.
Here are some common ways in which hail can damage your asphalt and composition shingles:
This part of the shingle is sandpaper-like and if it loses its granules, its asphalt coating will get exposed to the elements and age it quickly. After a hailstorm, always make sure that granules have not come off your shingles.
Hail is usually hard and will cause the shingles to crack. This means your roof may end up with bare spots, and the roof will not be able to protect you from the weather.
Fiberglass mat that is exposed:
When hail damages your roof, it can break the surface of the shingles and you will end up with the fiberglass mat that is underneath them.
Fractured fiberglass mat:
It may be difficult to tell if you have a fractured fiberglass mat unless you are a professional roofer, however, if you suspect this to be the case, make sure to have it checked out as fractured fiberglass mats can result in tears and cracks from hail impact.
Another way that hail and wind can ruin your roof is by affecting the seal integrity of the shingles. When the seal is weakened, the shingles can blow off and leave your roof exposed. If the shingle is damaged, its integrity is also compromised which leads to leaks and tears.
Now that you know all the different ways hail can damage your roof, you should look for signs of damage right after a hailstorm.
How to Identify if Hail Damaged Your Roof
If you have minor roof damage, it may be difficult to identify it if you are not a professional roofing contractor. Here are a few things to look out for if you want to inspect your roof and check for any damage after a hailstorm:
Inspect your gutters, downspouts, and siding:
Usually, if you've experienced hail damage, there may be dents and dings on your gutters and downspouts. Also, if your gutters are clogged or overflowing or granules are shedding from your roof, you may have roof damage. Make sure to also check your siding, which can show if you've experienced hail damage.
If you've experienced a hailstorm, check the deck for damage. If the hail was bad enough to damage your deck, chances are it also damaged your roof.
Even though these are great indicators of hail damage on your roof, if you suspect damage, you should reach out to a professional roofing contractor for a roof inspection and an assessment.
What hail size can damage your roof?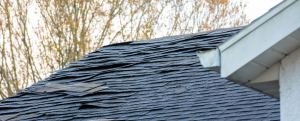 Even though hail size may vary, almost all sizes of hail can damage your roof. Here is a breakdown on different sizes and the damage they can cause:
This size of hail or even slightly smaller can cause damage to your roof or other areas of your home.
This size hail, if combined with strong winds, can cause damage to vinyl siding, window screens, metal fascia, and even deck paint. It can also dislodge granules from asphalt shingles and damage your gutters and downspouts. Sometimes, due to the size of this hail, homeowners don't identify the damage caused by it.
Usually, this size hail can cause bruising to shingle underlayment and very significant damage to gutters, siding, and fascia. The speed of the wind during the hailstorm will determine the severity of the roof damage, just like with the smaller size hail.
This size hail will cause damage just by coming down from the sky. It will leave major dents on various items outside.
This size hail can cause major damage to your property depending on the amount, how long it falls, and wind speed, however the damage to your property could end up being severe.
This size hail can go through various parts of your roof, or even through plastic roof vents. With this size hail and strong winds, you can end up with torn siding, cracked windows, and damage to metal fixtures.
This size of hail will cause significant damage to your property. If you experience this size of hail and strong winds, you should have your property assessed by a professional roofing company.
Recognizing Roof Damage from Hail
If you experience hail that is over one inch in diameter, you will probably be able to visually see the damage to your roof. If the hail is accompanied by strong winds, you may experience even more damage. You may also see damage outside such as broken windows, dented gutters, or even damaged siding. It is important to get this damage remediated right away after a hailstorm.
Even with identifying the common damage seen on asphalt shingles covered earlier, be aware that hail can crack harder materials such as clay or concrete. However, sometimes hail damage is tougher to see and not knowing you have hail damage can lead to further damage to your property later.
Can you repair a hail damaged roof?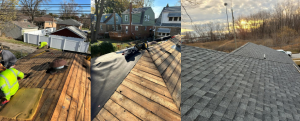 Hail damage to your roof can vary in severity, however, it can usually be fixed. It can range from damage to a single shingle to replacing the whole roof. This is why it is important to have your roof inspected by a professional after a hailstorm. This will help determine the damage.
Roof inspections are usually free, and the inspectors can let you know if you have roof damage after a storm. If you are not sure if you've had hail damage to your roof, look for signs of damage outlined earlier. If you have multiple instances of damage such as damage to your gutters or siding, it is time to have a professional assessment done. This will help you fix the damage while it is still mild and prevent further damage.
Do Not Ignore Roof Damage
You should never ignore roof damage as you may end up with leaks and ice dams. This may cause mold damage, electrical issues, and even rotting wood which can be costly to fix. If you suspect damage, make sure to call the professionals to have your roof assessed and fixed.
Does insurance cover hail damage?
Usually, a homeowner's insurance policy will cover damage to the roof from hail. However, this may differ depending on where you live, who you are insured by, and the details outlined in your policy.
You generally need to file your claim within one year of when you experienced roof damage. It is recommended to have your roof inspected right away if you've experienced hail damage. You need to ensure that all the damage is reviewed, and the proper assessments have been done so that you can receive your quotes for fixing the hail damage on your roof from your roof contractor.
Call the Professionals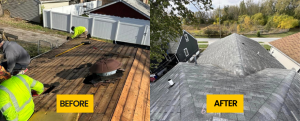 Have you experienced roof damage at your home or business? HydroForce Cleaning and Restoration can help! Whether the damage was caused by strong winds, a storm, hail, or any other natural disaster, our professionals provide storm damage roofing services to restore or replace your roof, siding, and even gutters. You can rest assured that we will get your property back to its original state. For all your roofing needs, call us today at 1-800-484-0402 for more information.