24/7 EMERGENCY SERVICE RESIDENTIAL & COMMERCIAL SERVICES
Mold at your apartment can be noticed via a musty smell or spots and patches around windows and other areas. There are various ways to test for mold which can be costly, however you can also use a home kit as a cheaper alternative.
How to Figure Out if You Have Mold in Your Apartment
The best way to test for mold in your apartment is to use a home test. Also, if you have obvious brown, black, or even gray spots on various surfaces in your home, you may have mold. The most dangerous type of mold is black mold. It usually appears on wood, paper, fabric, and even insulation. It does not always look black as it can also be blue or gray. However, mold sometimes hides in different areas such as between cupboards and the wall, corners of walls, or any area that may have little air ventilation. You should also be sure to check areas that have plumbing pipes as they can leak and create a moist area that may allow mold to grow. Leaving mold unattended can cause various health issues so it is always best to deal with it right away to avoid further problems.
How to Test for Mold in Your Apartment
You can have your home either tested by professionals or you can use a home kit and test for mold yourself. No matter what type of test you use, if you do find that you have mold present at your property, you should make sure it is remediated right away before it spreads further and causes damage to your property.
Professional Mold Testing:
If you have a professional mold inspector test your home, they will take a sample from three different areas including the air, surface, and the surrounding dust. The sample will then be sent to a third-party lab which will figure out the concentration and the type of mold you have in the affected areas.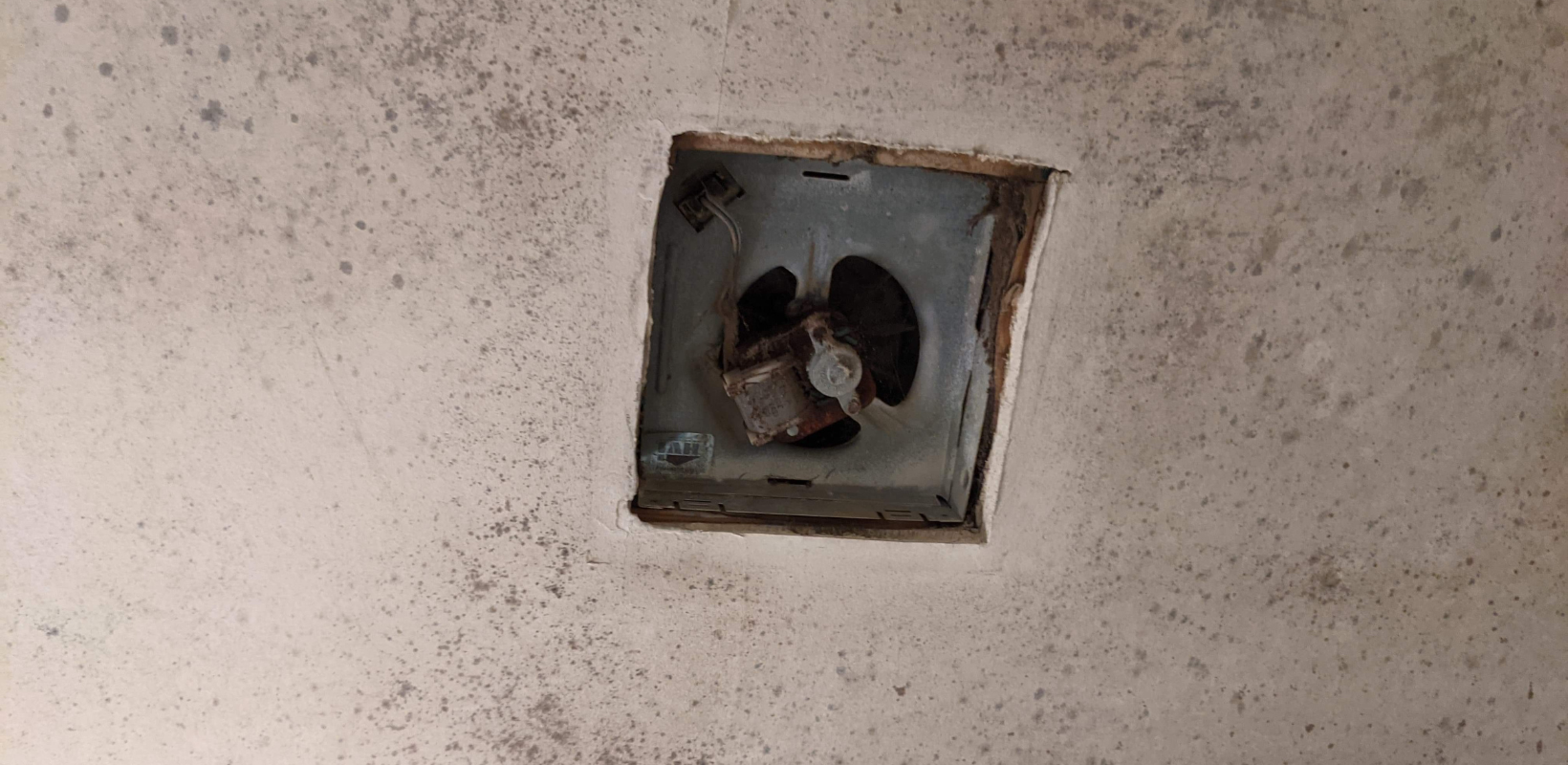 Mold Testing:
You can use a store-bought mold testing kit to figure out if you have mold present at your apartment. The mold you will usually see indoors includes Cladosporium, Alternaria, Penicillium, and Aspergillus or even black mold or Stachybotrys.
Here are a few common mold testing kits you should know about if you decide to do mold testing yourself:
5-Minute Mold Test:
This test is quick and easy and uses one test swab and one test strip for Stachybotrys and Penicillium/Aspergillus. You can test multiple samples for the lab, and you get a pre-paid mailer. Basically, you will need to swab the area, wet it in the provided solution, and apply it to the test strip. If you have one line, your test is negative and if you have two, then you have the specified type of mold present at your property.
Mold Armor FG500 Do It Yourself Mold Test Kit:
In this mold testing kit, you will get a test swab, a petri dish, and a bottle of medium that grows mold. You can use the kit in three ways. This means you can test the air, test the air quality of your HVAC duct, or test the surface for mold. The process of testing is simple. You will need to pour the growth medium into the petri dish, replace the lid, and allow it to grow gel for one hour. Next, you have the option to stay open to the atmosphere to test the quality of air, you can tape it to your air duct for an HVAC test or use the swab to remove the sample and apply it to the growth medium so you can do a surface test. It will take 48-96 hours for mold to grow in your dish. You can also send it to the lab for analysis for $40. The test kit itself is under $10.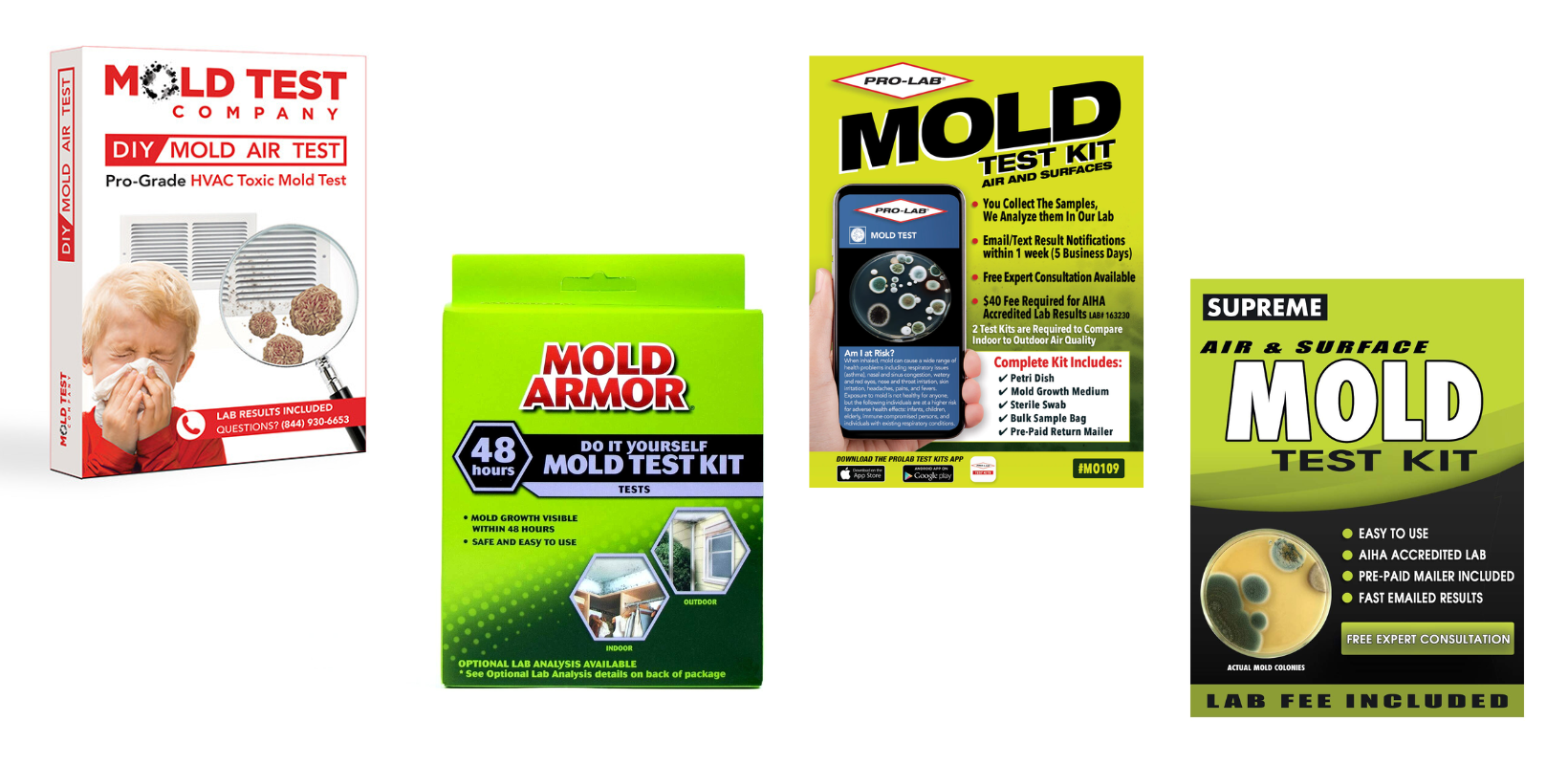 Do it Yourself Mold Test:
With this test kit you get three tapes to get samples from surfaces. You will then need to mail them back for analysis. All the instructions are included in the kit. The usual cost of the kit is around $45 which includes the lab fees to test for all mold types. You will simply need to apply the tape to wherever you see mold in your home, lift it off, and adhere to the sample card included with the kit. You will get a full lab analysis report in the mail.
Keep in mind that you should always wear protective gear if you plan on testing for mold. It is important to wear long sleeves and pants, proper shoes, gloves, and goggles without vent holes and an N95 respirator. If you do one of the home kits and get positive results, at that point you can decide whether to get the mold removed yourself or hire a professional to do so.
Common Areas for Mold to Appear
Area around the plumbing lines
Under the sink
Within walls or around windows that may be leaking
In closets
Under the carpet if you've had a flood
Behind the fridge
Between furniture, on the exterior of walls
Coils of HVAS or ductwork
Common Causes of Mold in Apartments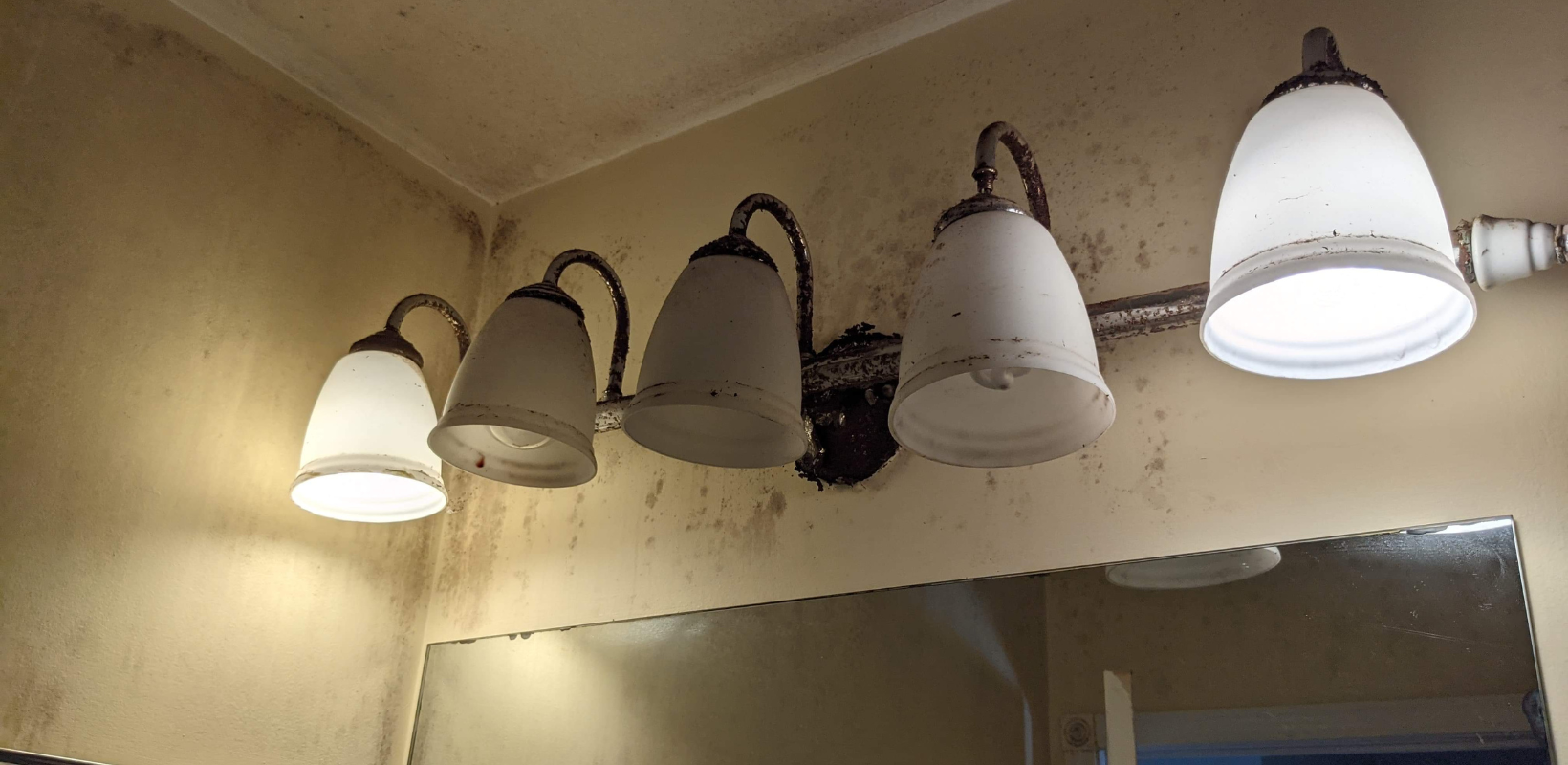 Mold thrives in cool and damp spaces. There are various reasons why you may experience a mold infestation. Here are a few:
When you have a mold infestation, it may be caused by a leak. Even if you fix the leak,
mold can linger inside walls and floors; the mold spores grow quickly and cause it to spread.
Water that enters from the outside:
If you have badly fitting windows or cracks in your walls or doors, you may end up with some moisture inside your home.
Condensation is caused by the water we exhale and from showering and cooking. It condenses on cool surfaces such as on walls and can cause mold. Also, if you have indoor humidity that is higher than 60 percent or an indoor temperature of 60 F or lower, this can also be a cause of mold.
Preventing Mold
You can prevent mold by using dehumidifiers or air conditioners to get rid of extra moisture from air indoors, you can also run exhaust fans in your kitchen and bathroom and make sure to heat your home during cold weather.
Have you experienced mold at your apartment? If so, make sure to give HydroForce Cleaning Systems a call today. Our highly trained professionals will provide you with all the needed mold testing and remediation services right away to ensure your space is safe for you to inhabit. For more information about our mold removal services you can call us today at 1-800-484-0402.