24/7 EMERGENCY SERVICE RESIDENTIAL & COMMERCIAL SERVICES
The kitchen sink works hard for our households. It is where dishes are washed, various food particles go through the drain, and where the garbage disposal is located. Not many people pay much attention to their kitchen sink unless there is an issue. However, when there is blockage, the kitchen sink may produce a bad odor.
There are various reasons why a kitchen sink may have a bad odor. We will review the different reasons why this may occur and what you can do for regular maintenance to prevent odors coming from your sink.
Why does my kitchen sink have a bad odor?
If you notice your kitchen sink has a bad odor, it could be due to any of these common reasons:
Leftover food in your garbage disposal:
When leftover food gets stuck in your garbage disposal or drains, it can create a bad odor. Certain foods have a stronger odor than others and can also cause sink issues. Rice, grease/fat, coffee grounds, bones, and even potato peels can clog up your pipes.
 A dry P-trap:
If you notice a sewage odor, you may have an empty sink trap. A P-trap is a curved part of the pipe under your sink. Usually, it holds water by which a seal is created, and it prevents any gases from getting into the kitchen. The P-trap should always have water in it. You might also have an issue with the drainpipe or your vent. This issue may include pipe damage or an obstruction that is in your vent.
Clogged or cracked vent:
For your plumbing system to work, it needs to have the proper ventilation. If there is no vent, there can be issues with pressure and flow of water and sewage. If there is an issue with your vent or it is damaged or has a clog, you can experience a sewage odor in your home. Usually, your vent is on the roof, so your plumber can check for bird nests, leaves, or other debris that may have accumulated there. They can also check for cracking or damage.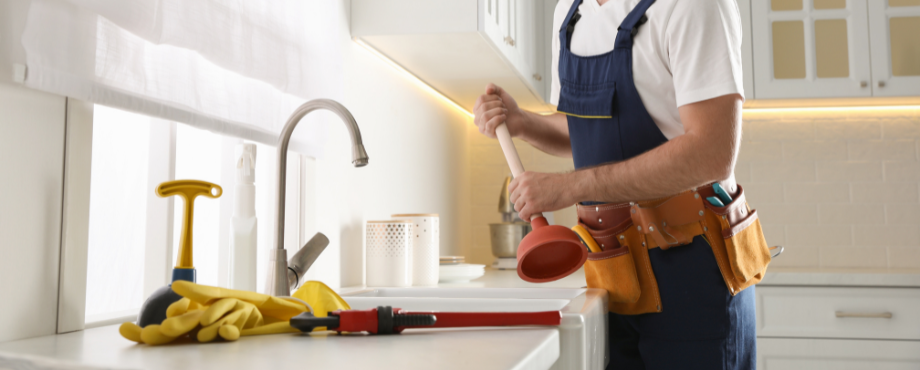 Mainline clog:
Usually, sewage backs up into the bathtub when the toilet is flushed. A mainline clog also usually shows up in the bathtub first before it backs up into the kitchen sink. However, at times it will go straight to your sink. This is an emergency due to the possible health hazards sewage water may contain, and you should call an experienced plumber to help.
Drain clog:
If there is food or grease stuck in your drain, you can experience a bad odor in your kitchen. If you notice other signs of a clog such as a sink that drains too slowly or gurgling pipes, you should have your drains cleaned by a professional.
Sulfate in the water:
If you notice a rotten egg smell, you may have a water issue. Sometimes the bacteria in the water heater can create an odor in your water. Also, sulfate may naturally occur if you have well water. When it is just a small amount it is not an issue, however, if it is a lot, you can start having bad-tasting water and health issues.
How can I stop my sink from smelling like a sewer?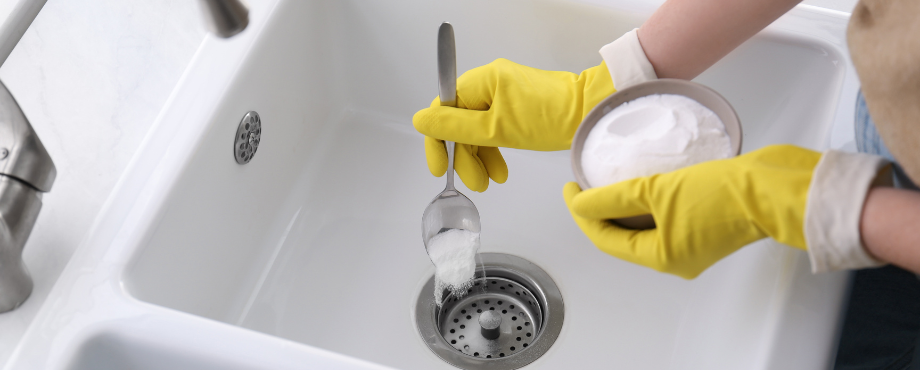 Foul odors coming from the kitchen sink are annoying and can make it unpleasant to be in your kitchen. While these steps may not resolve the underlying cause of the odor, they can help reduce the bad smell in your kitchen:
Vinegar and baking soda: Pour one cup of baking soda and one cup of vinegar down the drain and let it set for 20 minutes. Then wash it down with hot water.
Ice cubes and coarse salt: If there may be food stuck in the disposal, you can remove it by putting some ice cubes and rock salt down the drain and turning on the disposal. Make sure to run cold water afterwards.
Lemon slices: Cut up small slices of lemon and put them down the drain and into the garbage disposal while running water. Turn on the garbage disposal until it grinds up the lemon and keep the water running for another 30 seconds after turning off the disposal.
Bio-enzyme drain cleaner: Bio-enzyme cleaners use natural enzymes to break down food particles that may be causing an odor.
Run water for one minute: If the trapped water in the drain dries up, this could cause a sewage smell. Try running water down the drain for at least one minute and check back after 30 minutes to ensure that the smell is gone.
Check sink trap: Check the sink trap and pipes under your sink for signs of leaks or damage. It is best to call a plumber if you notice a problem.
Call Our Professionals at Hydroforce Cleaning and Restoration for Help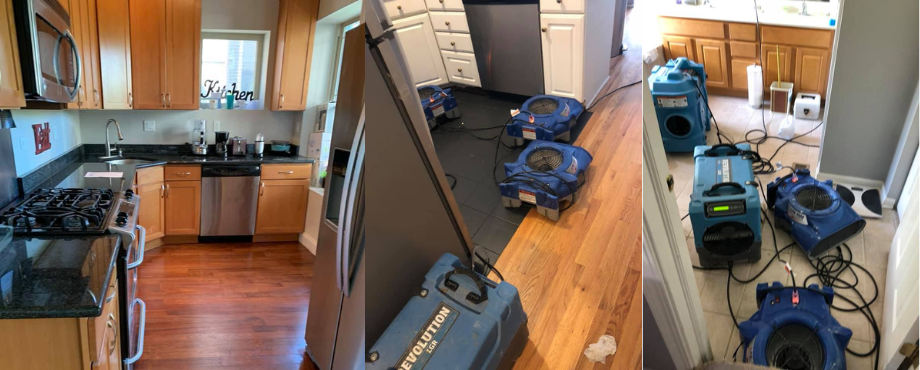 If you are experiencing a sewage backup issue, our professionals at Hydroforce Cleaning and Restoration can help. We offer sewage cleanup and water damage restoration to residential and commercial customers and our technicians are highly trained to handle all types of sewage cleanup situations. Call us today for sewage cleanup emergencies at 1-800-484-0402.