24/7 EMERGENCY SERVICE RESIDENTIAL & COMMERCIAL SERVICES
Flooding in your basement can happen due to many reasons as the basement is the most vulnerable area of your home to flooding. Whether your basement floods because of inclement weather, a sewage backup, or a foundation leak, you need to act quickly and get it cleaned up. The quicker you act, the easier it will be to dry out, clean, and restore the area. Fast restoration will also prevent mold from forming, avoiding additional and costly damage.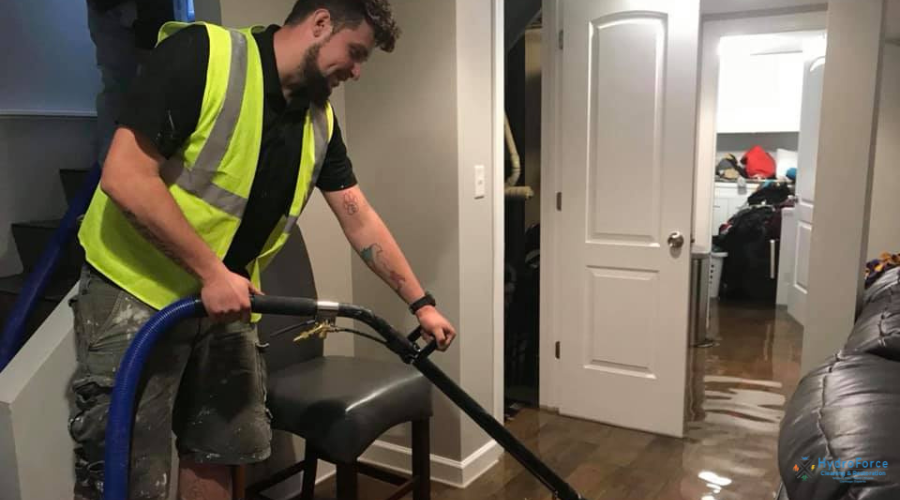 Reasons for Basement Flooding
Your basement can flood for many reasons; however, it is important to try and prevent these things from happening. Here are some reasons why your basement may flood.
Cracks in the foundation:
If your concrete foundation has any cracks or signs of stress such as from the outside, and possibly on the floors and walls, it is a good idea to get those fixed right away, especially small cracks. However, if the cracks are large, you may have to hire a professional to get it fixed.
Dirty downspouts and gutters:
If you do not clean your downspouts and gutters and they get debris and leaves stuck in them, rainwater can overflow and seep into your home.
Leaving window wells uncovered:
You should always cover your window wells with acrylic to keep water, leaves, and critters out of it.
Failing to maintain your sump pump:
It is important to keep your sump pump working well so that it can keep water out of your basement. Sump pumps will fail to work if they clog or if there is a power outage. You should inspect them regularly and make sure they run properly.
You should make sure to level out your yard so that rainwater can drain away from your foundation. This will help keep water out of your home and your basement.
Failed water leak sensor:
Water leak sensors can help prevent water damage at your home. You should put them in flood-prone areas of your home and your smart device will alert you if there is a water leak. Make sure to keep it working properly so it can detect the damage when needed.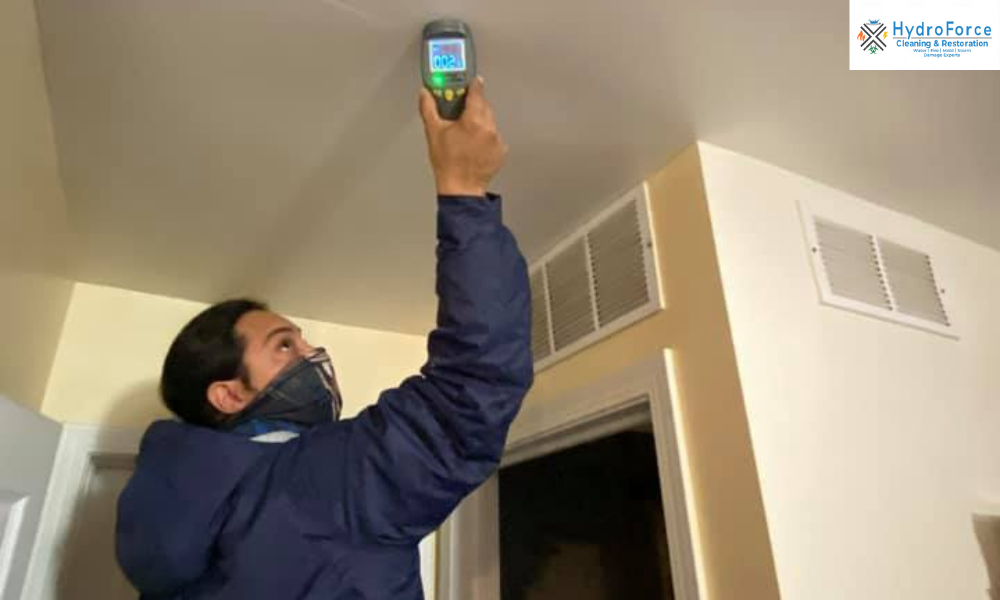 How long does it take to dry out a wet basement?
Wet basements can happen for many reasons and whether it is due to heavy rain, extreme weather, or a plumbing accident, it can be a stressful situation. Even though it may seem difficult to dry out a flooded basement, if you take the right steps and do it properly, you should be done in a couple of days.
Here are the steps to take to remove water and dry your basement:
You should shut off the power supply to the basement to keep yourself safe. A professional electrician can help.
The outside water level should be lower than the water inside:
This step applies if there is flooding inside and outside your home. You can use a tape measure to measure the height of the water. The reason the water levels are important is because if you pump out water in your basement too fast before the level outside your home is lower, the weight of the water can damage the walls of your basement.
Soak up water with towels if its less than 2 in:
Use towels to soak up water in your basement and wring them into buckets which you will empty outside. Make sure to wash the towels as soon as possible so they don't get mold. You can also use mops and buckets.
Pump out water with a wet vac or sump pump:
A wet vac can help pump water out of your basement if it is only a few inches deep. If the water is deeper, you can use a sump pump. A wet vac can be rented from a local hardware store if you do not have one handy.
Circulate air in the water damaged area:
Make sure to use big fans and your windows to circulate air in the water damaged area. This will help dry the area so that mold does not form and cause further damage. Move any furniture and other possessions out of the way. Also, use a dehumidifier to remove leftover moisture so you can be sure all areas have been dried. You can also run your air conditioning system if it was not flooded so that you can keep the air dry inside the home.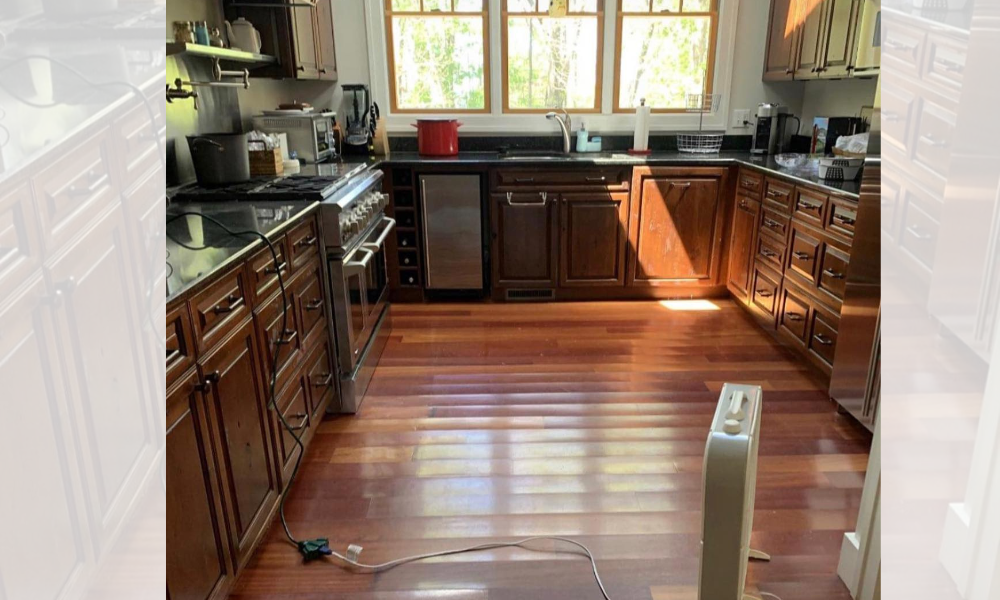 Clean the floors and drains:
Wearing protective equipment such as long pants and sleeves, boots, rubber gloves, protective eyewear, and an N95 mask you can clean up all the standing water while protecting your health. If you have a carpeted basement, you should tear it out. This is important because the padding under it gets wet as well and can grow mold and mildew. The floor should be scrubbed with a solution of bleach and water. This will help brush any mud and dirt out of tiles, linoleum, and even hardwood floors. It will also help deodorize and prevent mold and mildew.
Clean the drainage system by hand:
Make sure all your gutters, downspouts, and drains are cleaned by hand to scoop out leaves, mud, and anything else that may block them.
Wash walls and masonry with a high-pressure washer:
Use a pressure washer to rinse the walls and remove dirt and stains. The walls can also be scrubbed by using a solution of bleach and water which will prevent bacteria and mildew from forming.
Replace any damaged drywall and insulation:
Water damaged drywall and insulation should be replaced as it can cause mold and mildew to grow, and it can even weaken the structure of your property.
Does home insurance cover flood damage?
Generally, homeowners' insurance does not cover damage from flooding. However, you can purchase separate flood insurance so that you can have coverage. You could also add a flood endorsement to your home insurance policy. The type of coverage you have for your home will depend on the type of endorsements you added, however, flooding is commonly a home insurance exclusion. If you are unsure what coverage you have, make sure to speak with your insurance agent and they can review the policy with you. If you need flood insurance, make sure to add it.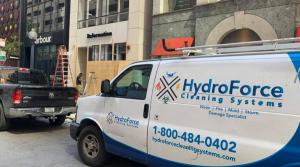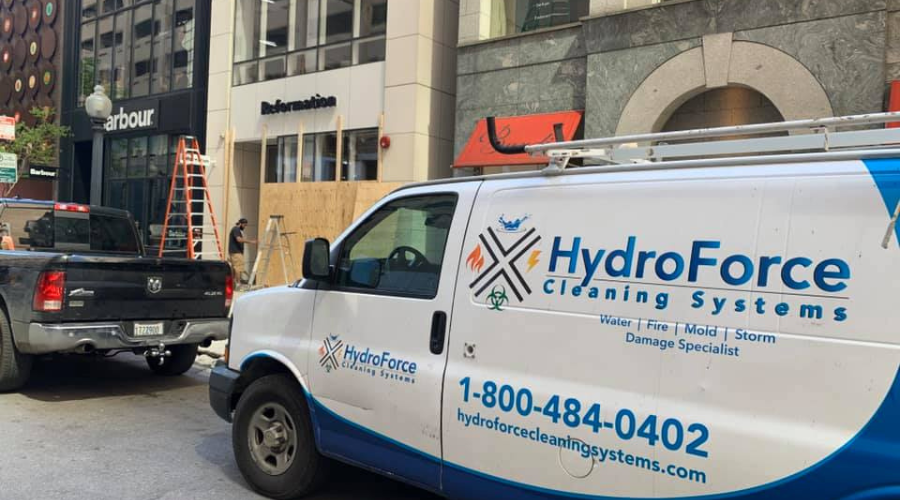 If you've experienced flooding in your basement, Hydro Force Cleaning and Restoration can help! We will make sure to arrive quickly and take care of the cleaning, drying, and restoration of your basement. Our highly trained technicians specialize in flood damage cleanup. Whether it was caused by a natural flood, inclement weather, or something else, we will take care of your flooded basement quickly and efficiently. For all of your water damage restoration needs, call us today at  1-800-484-0402.