24/7 EMERGENCY SERVICE RESIDENTIAL & COMMERCIAL SERVICES
Mold can be a terrible nuisance for a homeowner. It can look terrible, decrease property value, and even cause some serious health concerns. Plus, according to the Mayo Clinic, 93% of chronic sinus infections have been attributed to mold.
If a home has a serious mold problem, immediate action is required and you should contact local plumbers and mold cleanup specialists. However, if mold only resides in small areas of your bathroom, there are a few things that you can do prior to reaching out for professional help. But it's important to keep in mind that in order to completely rid your home of this problem, you need to hire mold removal professionals, even if it's for the smallest mold issue.
For quick mold cleanup jobs inside your home's bathrooms, consider these following tips: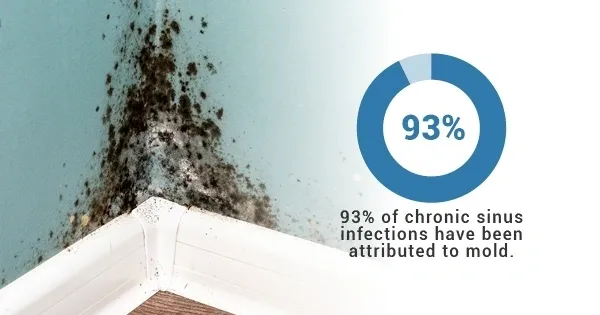 Use hot water, baking soda, and bleach — For a quick and affordable way to clean up mold inside your bathroom, get some baking soda and bleach. All you need is a single teaspoon of liquid soap, a cup of baking soda, a few drops of an essential oil, and water. Then, mix that solution with some bleach and transfer it into a spray bottle. Spray the affected area, like a bath tile or your bathroom ceiling with the solution and allow it to dry. Once it has dried, scrub it with a brush and rinse until the mold is gone.
Use vinegar — Another inexpensive method for addressing bathroom mold is to put vinegar in a spray bottle. Since vinegar is only mildly acidic, it can clear out a moldy part of your bathroom without cause for health concerns. Make sure you don't dilute the vinegar with water when placing it into the spray bottle, however, because you'll need it to be at full-strength and not watered down. After you spray the mold, let it rest for about an hour and then wipe it clean with hot water before drying it off with a clean towel.
Keep your bathroom clean — Keeping your bathroom clean is an essential responsibility for all homeowners. After you've had local plumbers and mold cleanup professionals address any mold and mildew inside your bathroom and throughout your home, keeping it clean will prevent future mold from growing.
If you're in need of local plumbers in order to address mold and other plumbing emergencies inside your home, give Hydroforce Cleaning Systems a call right away.